"In most people's vocabulary, 'design' means veneer. It is interior decorating. It's the fabric of the curtains and sofa. But to me, nothing could be further from the meaning of design. Design is the fundamental soul of a man-made creation that ends up expressing itself in successive outer layers of the product or service."

Steve Jobs
why invest in good design
Every well written book deserves a thoughtful design. Frankly, even poorly written books benefit from good design.
I'm not talking about "making it pretty" or "jooshing" it up. I'm talking about the myriad of decisions that a good book designer makes—page size, paper weight, font selection, photo treatment, colors, graphic themes, visual metaphors and motifs, the position of all these elements on the page—that invites a reader into the book, conveys a sense of time and place and emotional tone, and helps them navigate through the book. Thoughtful, carefully-executed graphic design makes the reader feel both excited and secure, eager to begin the journey into your book. Amateur efforts generate confusion and anxiety, turning potential readers away, or invoking a subliminal irritation that will eventually cause them to put the book down and turn their attention to something else.
An experienced book designer understands digital, print on demand, and traditional printing options, can choose  the most appropriate one for a particular project, and knows how to prepare the files for trouble-free production. They "speak the language" in order to understand and resolve the issues that inevitably crop up as our technical options get more complex.
how it works
questions—questions—questions
I start by asking lots of questions: What kind of book is it? Is it set in a particular time period or place? What is the overall "look and feel" you want to convey? What distinctive elements are there within this material? Who is the intended audience? What constraints are there on size? What kind of binding is appropriate? How many copies will be printed? What is the budget?
initial book design
After this initial inquiry and upon receiving the manuscript, photos, and other memorabilia and images from you, I develop an initial book design and present it to you for approval. This includes representative sample pages as well as a book dummy indicating all the different types of pages and an approximate idea of how many there will be. You'll see a chapter opening spread, a text-only page spread within a chapter, and a page spread with photographs. The number of review and revision cycles at this stage depends on the design level you choose (see below) and at the end, you'll sign off that you approve this design and we move on.
cover design
Cover design is closely entwined with book design; it may proceed simultaneously, it may be done first or it may evolve out of the interior design. As with the book design, the number of design alternatives, review and revision cycles depends on the design level you have chosen and, at the end, you will sign off that you approve the cover design and we move on. Unlike the book interior, the cover is pretty much wrapped up at this point.
photos & memorabilia
Now the actual book layout begins. Photos and memorabilia are scanned. (Whenever possible I prefer to do the scanning myself. The price is the same.) If appropriate, we may search for additional images for the story from online sources such as the Library of Congress or stock photo archives. Appropriate permissions are secured for use of the images.
Again, depending upon the level of design service you have chosen, we may start with far more images than will eventually end up in the book (see digital archiving for more on this). Images are optimized—colors enhanced and tones adjusted—for the specific final output we have chosen for this book and minor retouching applied. Photos requiring significant repair or restoration will be identified and you will decide if you want to incur an additional charge for having this work done. Any special framing or border treatments agreed to in the approved design are applied at this time.
additional graphic elements
During our initial design phase, we would have developed a list of any special graphic elements that will be included, such as family trees, timelines, graphic motifs, etc. This is the phase in which we would obtain or create these elements.
manuscript & other copy
It's your responsibility to deliver a final manuscript that has been approved and proofread. You would also deliver captions and credits for all the photos, all the front material, an index if that's part of the project, text for the front and back cover. I'll give you guidelines for formatting the material—they're pretty easy to follow—and for indicating the relationship of photos to the text.
page layout & review
Now I really go to work. I take your manuscript, the photos, the other graphic elements, shake them and stir them and lay them out on the page just as the final book will appear. Sometimes I prepare a pagination review copy so we can see exactly where each page break occurs and make adjustments to improve readability and coherence.
Then you'll get a review copy. This is a final chance to look over the entire book as it will be delivered to the printer. Built into every design level is at least one hour of author corrections/minor alterations—misspellings, punctuation errors, minor text changes—that might have been missed previously. (It happens. To everyone. Believe me.) It's also a chance to double-check that the right photos are in the right place with the right captions.
I make the changes identified in the first review and give you back a final review copy. Your approval of this final review copy moves us onto the final phase.
printing & binding
During the initial book design phase, we nailed down the printing specifications and decided who would do the printing and binding, what paper we'd be using, what type of binding, etc. Now we finalize our specifications and obtain the final costs from the printer based on the total number of pages in the book and the number of copies to be printed and bound. (Depending upon the level of design you have chosen, the selected printer/binder may be built into the package.)
After receiving your final sign-off that the book is ready to go to the printer, I'll prepare the digital files according to the printer's requirements and send them on their way. The printer will then send both of us a printer's proof of the book interior and the cover. We'll review it together and, if there are any technical issues that need to be resolved, I'll work with the printer to resolve them.
Then the books are printed, bound and shipped and it's time for you to celebrate a monumental accomplishment.
pricing options
I do my best design at every price point. It's not the quality or thoughtfulness of the design that changes or my attention to the little details that, when not tended to scream "amateur" and when present become virtually invisible. Pricing differences are based on the complexity of the project, the number of variables in text and images, the number of design and printing options explored, the number of book and cover design options presented, the number of review and revision cycles, and the amount of project management and vendor sourcing and coordination required.
Yes, the total number of pages and images are a factor, but the difference between a 100-page book and a 200-page book or between 50 and 100 photos is far less significant than the number of review and revisions cycles.
For all of these pricing options, my professional fee includes planning and project management of the print production stage, design and production, and successful delivery of final files to the printer. The actual cost for printing, binding and shipping of the books is extra because of the wide range of variables.
While the explosion of digital production options is a good thing in many ways, it introduces so many variables and surprises and potentials for mistakes, misunderstandings, and disappointments. To reduce those variables to a more manageable level, I work with a handful of reliable printers and binders. They offer a range of services and, because I have worked with them over time, we have refined our process to be able to produce the best possible book at the appropriate price point.
included in every package
a thorough client briefing session culminating in a design brief and a preliminary print specification document
a variety of page types, including title page, publication information page, and optional preface, acknowledgements, and dedication pages
design concept presented with sample page layouts for chapter openings and chapter spreads with and without photos, a book dummy indicating all the different page types, and cover treatment
checklists and guides to simplify handling of text files and images
attention to fine typographic details for chapter headings, subheadings, body text, captions, page numbers, running heads, rules and dingbats to add graphic emphasis
high resolution scanning of photos and memorabilia, minor retouching of images and optimizing for the specified output device
online review copy of the designed book and cover and, after approving that review, a hardcopy printer's proof of the book and cover on the selected paper from the specified output devices
one DVD or flash drive containing the original scans & the optimized version used for printing
coordination with the printer/binder throughout the process
classic design package starting at $2,500
Classic Design is an excellent choice for straightforward text with black & white photos intended for private distribution. Turnaround time is relatively quick. This is not a typical "template" book, although it is a template process. That means more limited options but the same high level of design and attention to detail as the higher-priced packages.
Choice of hardcover or softcover
Choice of paper grades
Up to 160 finished pages with 25 photos, black and white
Photos are treated with a simple keyline and caption. One page-size photo is placed at the opening of every chapter; other photos are grouped together at the end of the chapter
Use of fine typographic embellishments, including drop caps, dingbats, running heads, adjustments for widows and orphans
One hour of author corrections/alterations
enhanced design package starting at $3,500
Enhanced Design opens up more choices of size and graphic theme. It accommodates color images, more text & page variations, a range of binding options, an e-book version, and fully designed covers for sales & marketing. This package includes everything in Classic Design, plus
A choice of three page sizes, an expanded range of paper choices, and the addition of landscape and square formats
Full color interior optional
Up to 224 finished pages with 50 photos
More flexible photo placement
fully designed color cover (front, back & spine) including one image on front, spine text, author photo, and promo copy on back
ISBN/EAN bar code and publisher information
one at a time book ordering option through Blurb or amazon.com storefronts
custom design starting at $6,000
With Custom Design, the range of options becomes virtually unlimited. The schedule & budget are related to the number of options explored. This is an excellent option for books with a large intended distribution or for special tributes.
A detailed project plan and cost estimate is prepared for your approval before work begins and adjustments may be made to accommodate additional requests during the process.
premium design starting at $9,000
The main difference between Custom and Premium Design is that the final product here is envisioned to be of the highest production quality: some refer to these as coffee table or artistan books. They are printed on offset presses or on high-end, color-managed digital systems using heavier papers and more elaborate binding techniques. Individual page designs are complex, requiring an extreme—some may say, obsessive—degree of attention to detail on every page. A great deal of the increased cost is related to sourcing materials and vendors and managing all the elements of production. A detailed project plan and cost estimate is prepared for your approval before work begins and adjustments may be made to accommodate additional requests during the process.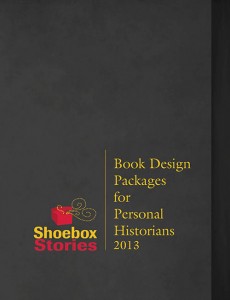 To see sample pages and detailed options for the different levels of design, click on the image or click here. If you would like to discuss a particular project, please get in touch and we'll have a no-obligation phone consult to see if we are a good match.
what if I can't afford you?
You'll often hear me say "all the cost is in the first book." That means that the effort, and cost, of writing and designing the book is the same whether you print one or one thousand. And the professional fee for developing the manuscript—interviewing, transcribing, editing, reviewing, revising—usually exceeds the cost of design by a factor of 4 or more. That's why I've developed these Book Design Packages; so you can integrate them into your full-service offering to clients. Nonetheless, there are times when even the Classic Design package is beyond the budget for a particular project. In that case, check out my learning resources page for some do-it-yourself options or my one-to-one mentoring service to help you think about other options.