My friend and creative collaborator Suzanne Fox and I try to take a few hours off on the last Friday of the month and we inevitably end up at one or another Barnes & Nobles. We walk in, grab a basket, and head in our separate directions with a plan to meet in the café in about an hour.
Usually our baskets are full way before the hour is up, so we'll grab a coffee or a piece of quiche and pile our books on the table.
I tend to be quite promiscuous in my book-grabbing and -piling and -reading but during our last outing, I came across this exquisite gem and had eyes for no other.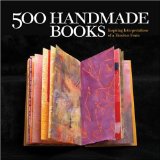 500 Handmade Books: Inspiring Interpretations of a Timeless Form is part of the 500 Series from Lark Books.
Within the art community, there is an ongoing discussion about what constitutes a book: what is that elemental "bookness" that without it, makes an object something other than a book.
Here is what Steve Miller, one of the jurors, said about their selection criteria:
"…in order to quality, a piece had to demonstrate what we call 'bookness,' meaning that it had to operate like a book, opening up and presenting a sequence or potential sequence of images, words, or ideas."
The books featured selected are from the best bookmakers currently working, including the teacher who introduced me to artist books: Sas Colby. Some of these books push the boundaries of tradition, some are solidly grounded within it. All are brilliantly conceived and exquisitely crafted.