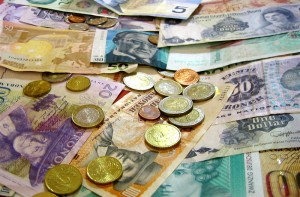 Writers, editors, designers, consultants: we all love learning more about our craft—the fine points, the ninja moves, that thing that moves us from apprentice to master. Thinking about and dealing with money? Not so much.
This three-session Money Matters webinar series will teach you what you need to know to confidently
answer that dreaded question: how much do you charge? Hint: don't answer that question. What they really want to know is: how much it will cost them.
determine the best pricing model for a particular project. Another hint: you don't have to use the same one for everything you do.
develop accurate estimates and flexible proposals.
set up efficient systems to establish professional working relationships that have built-in problem solving mechanisms.
improve your estimating abilities—and your overall profitability—by knowing the key numbers to track on your projects.
The next Money Matters webinar series starts Tuesday, May 17, 2016 and runs for three consecutive Tuesdays. For more information and to register click here.
Calculating Your Hourly Rate – Whether you bill by the hour, a flat project fee, or some combination, your hourly rate is foundational to everything that follows. Without knowing what you must generate in revenue for each hour billed, you cannot provide an accurate estimate that will allow your business to be profitable and thrive. In this first session you will learn:
how to calculate the three parts of an hourly rate—labor, overhead, profit.
how to calculate a shop rate for two or more persons
how to adjust the various factors of the hourly rate for "what if" scenerios and real world data
how to assess the immediate and long-term profitability of subcontracting
key numbers to track to make your hourly rate more accurate over time
Evaluating Pricing Models – Once you know the hourly rate you must earn, how do you decide the best way to present your pricing to clients? In this second session you will learn:
different models for pricing—hourly, project fee, package pricing, unit pricing, value pricing, phased pricing, and hybrids.
when each model is appropriate—and when it is not
why hourly pricing is often  not the best way to go
how to build in growth and profitability through your pricing model
Estimating Costs – Your hourly rate is the foundation for creating a project estimate, but there are other ways to estimate as well. In this third session you will learn:
an estimating process that makes sure you consider all the variables
the hidden tasks and overhead costs that can blow your estimate if you don't take them into account
a project pricing model that remains flexible
key numbers to track over time to make your estimates more accurate
Gold Is in the Details – Despite our tightest estimates, clearest proposals, and best intentions, stuff happen. Woven throughout the three sessions you will learn:
why establishing terms & conditions at the beginning of a project can smooth out trouble spots and provide a framework for resolving issues
how setting key milestones and getting crisp sign-offs will eliminate churning at the beginning of a project and thrashing at the end.
warning signs to look for in the midst of a project and how to negotiate them
the myriad benefits of conducting a post-project analysis and debriefing
This webinar uses many examples from privately-published book projects, which are fairly complex with lots of moving parts that can trip up the unwary. However, it will be valuable to audio and video producers as well as to anyone who is self-employed and has to set their own fees, develop estimates and proposals, and establish terms and conditions with clients.
The format is the same for each sesion: a 75-minute webinar presentation with breaks for questions; another 15+ minutes after the formal wrap-up for additional questions. If you are not able to attend one or more sessions, recordings of each session and detailed handouts will be available.
The next Money Matters webinar series starts Tuesday, May 17, 2016.  For more information and to register click here. The sessions will be recorded.
Presenter cj Madigan avoided the entire "numbers thing" until she was brought to her knees working really, really hard for not very much money. Once she began to embrace her inner bean-counter, she was amazed at how useful spreadsheets, formulas and tracking systems could be. cj combines her passion for producing books and digitizing photos with her geeky gift for designing systems to teach small business owners these magical details that will help them operate more efficiently and profitably.